Home page > Airports > Paris CDG > Review on Paris CDG airport > Review by andrygr
Review on Paris CDG airport
Written on 03/08/2014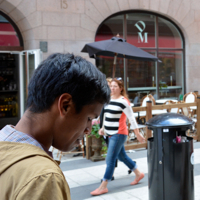 Novice traveler
Caen
19 reviews
7 flights
Immigration and customs
ND
Transport and parking
9/10
Signage and pathways
9/10
Other comments
Baggage delivery
Temps d'attente un peu long mais surtout les informations au niveau du tapis ne sont pas à jour. Par rapport à ce qui se fait au Terminal 1 de CDG, c'est beaucoup moins bien.
Transport and parking
Ecrans d'information concernant les transports en zone de récupération des bagages très utiles. L'arrêt du Roissybus est entre les terminaux 2E et 2F avec de nombreux guichets automatiques pour acheter ses billets et des écrans renseignant du prochain départ.
0 comment(s)
Please log in to publish a comment.
There are 40 other reviews on Paris CDG
Review on Paris CDG airport
"Après l'enregistrement au comptoir de la compagnie QR, je me suis dirigé vers le guichet de la police aux frontières à l'aide d'u passe de (...)" Read more
0

0
Review on Paris CDG airport
"Roissy continue dans son programme de médiocrité. Ce n'est jamais un aéroport facile ni agréable pour un passager, La livraison des bagages traîne en longueur. Aucun (...)" Read more
0

0
Review on Paris CDG airport
"Le teminal 2F est nettement plus agréable que les autres. Malgré tout, les transferts d'un terminal à l'autre ne sont jamais aisés à Roissy. (...)" Read more
2

0