Home page > Airlines > Aigle Azur > Reviews on Aigle Azur > Review by GIA
Review of a Paris Orly > Algiers flight on Aigle Azur
Written on 08/11/2013

Novice traveler
Paris
5 reviews
6 flights
In-flight entertainment
ND
Premier vol avec Aigle Azur !
Embarquement un peu long mais vol finalement à l'heure, PNC géniaux, souriants, dynamiques et attentionnés !
Très bon catering.
J'attends mon vol retour avec impatience.
Ups and downs
Downs
Siège un peu usé, cabine un peu vieillote
0 comment(s)
Please log in to publish a comment.
There are 4 other reviews on Aigle Azur

Novice traveler
4 reviews

"Vol effectué en tant que pax - retour d'un séjour de Moscou - Très bon vol (...)" Read more
0

0

Novice traveler
4 reviews

"Vol effectué en tant que pax, pour quelques jours de vacances dans la capitale Russe. (...)" Read more
0

0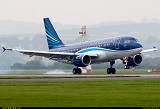 Occasional traveler
Metz
37 reviews
25 flights
"vol tres agréable avec le beau temps (...)" Read more
4

0