Home page > Airlines > Finnair > Reviews on Finnair > Review by hhamon
Review of a Paris CDG > Helsinki flight on Finnair
Written on 04/02/2012
In-flight entertainment
ND
Excellent vol du début à la fin. A mon arrivée au check-in à Roissy, j'ai pu demander une place en issue de secours et on me l'a attribuée sans surcoût. De plus, j'ai eu la bonne surprise de me voir remettre une invitation au lounge Air France / Finnair. L'embarquement a été rapide et le décollage à l'heure. Arrivée à l'heure à Helsinki et débarquement rapide.
Ups and downs
Ups
Check-in rapide
Attribution gratuite du siège 9A en issue de secours à ma demande
Invitation au lounge Air France / Finnair
Embarquement rapide
Départ et arrivée à l'heure
Catering satisfaisant pour de l'économie
PNC charmant
1 comment
Please log in to publish a comment.
05/02/2012 at 04:23 PM
thomas commented:

Super ce premier TR sur Finnair ! Merci :-)
There are 4 other reviews on Finnair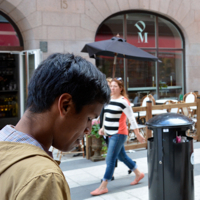 Novice traveler
Caen
19 reviews
7 flights
Flight review on Finnair
"Embarquement organisé (groupes préétablis et indiqués sur la carte d'embarquement). Confort excellent pour un vol si court (moins de trois heures) avec la présence d'écrans vidéos (...)" Read more
1

0
"Excellent vol avec Finnair en issue de secours. (...)" Read more
3

0
"Départ avec 10 min de retard non rattrapées en vol. D'une manière générale, le vol était très bien. La cabine est agréable et le pitch (...)" Read more
4

0