Home page > Airports > Paris Orly > Review on Paris Orly airport > Review by thomas
Review on Paris Orly airport
Written on 24/07/2014

Frequent flyer
Paris
69 reviews
12 flights
Transport and parking
10/10
Signage and pathways
10/10
Shops, restaurants, services
6/10
Other comments
Transport and parking
La navette gratuite qui dessert tous les parkings depuis Orly Ouest et Orly Sud est très pratique.
Check-in
Déjà enregistré avec ma carte d'accès à bord sur mon portable, je n'avais plus qu'à déposer mon bagage en soute. Pas d'attente à la dépose bagage et personnel très sympathique.
Security
Rien à redire: malgré le monde, le filtre était fluide, avec le temps d'attente indiqué.
Signage and pathways
Mon vol partait du Hall 4 du Terminal Ouest. De l'entrée dans l'aérogare à la porte d'embarquement, il n'y a que quelques mètres à parcourir.
Shops, restaurants, services
L'offre du Hall 4 est très limitée : un salon de thé Eric Kayser et une boutique Duty Free. Malheureusement, l'espace étant petit, ça ne risque pas de changer.
0 comment(s)
Please log in to publish a comment.
There are 10 other reviews on Paris Orly

Occasional traveler
Caen
48 reviews
2 flights
Review on Paris Orly airport
"Il faut traverser presque toutes les zones pour arriver au tapis bagages: celui-ci est à l'opposé de notre lieu d'arrivée -en zone départ- et de (...)" Read more
0

0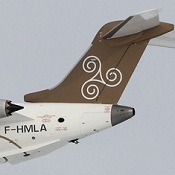 Occasional traveler
Paris
34 reviews
38 flights
Review on Paris Orly airport
"Le hall 3 est moins agréable que le hall de départ de La Navette et quelques travaux d'amélioration seraient les bienvenus. A noter toutefois des (...)" Read more
0

0

Frequent flyer
Paris
69 reviews
12 flights
" Salle de livraison bagages bondée. 15mn d'attente avec plusieurs vols sur le même tapis. (...)" Read more
0

0